Power plus voltage regulators and stabilizers
POWER plus VOLTAGE REGULATORS are principally used where the system voltage is below 350 volt & above 440 volt . IT is an equipment to improve system voltage up to 415VOLT Induction of this Voltage regulator unit in to the system, ultimately ensures three fold benefits.
CONSTRUCTION: Power plus Voltage regulator is basically a Auto Transformer. A reliable heavy duty rotary switch is provided to adjust the output voltage . The movement of the knob of the rotary switch shal be such that ,the out put voltage increases in steps(as shown below in specification ),when it is moved in clock wise direction on off load. Indicator plate is provided to indicate the position of the rotary switch. This POWER Plus Voltage regulator is of wet type with natural oil cooling , all enclosed in a suitable metallic tank , which is adequately earthed. It is also provided with high voltage cut off/ Alert units. These unit trips/alert, when the out put voltage reaches 460 Volts. POWER PLUS Regulator are sturdy heavy duty and long life to with stand heavy loads and fluctuating supply conditions.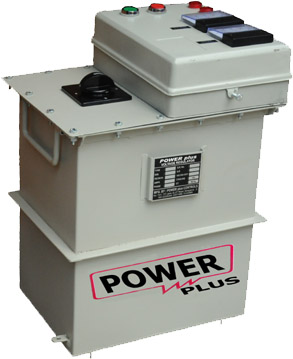 SPECIFICATION :
100 Vols to 415 Volts 3phase,50Hz,oil cooled,&Also As per customer specifications.
0 Volts to 280Volts 1phase,50Hz,oil cooled,&Also As per customer specifications.
STANDARD SIZES: 5K.VA,10K.V.A,15K.V.A,20K.V.A,25...........100KVA.